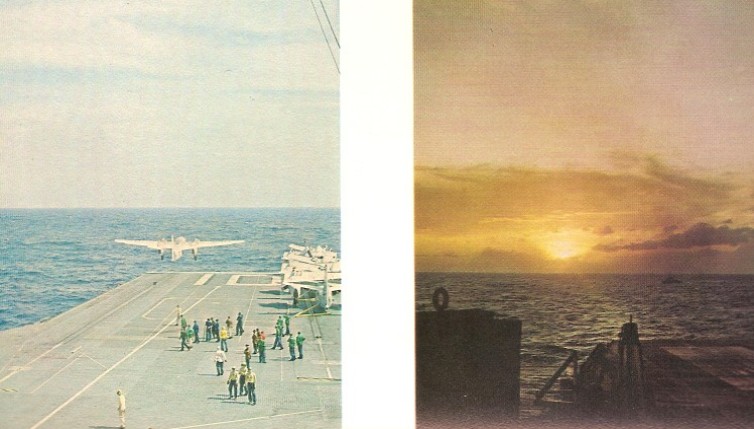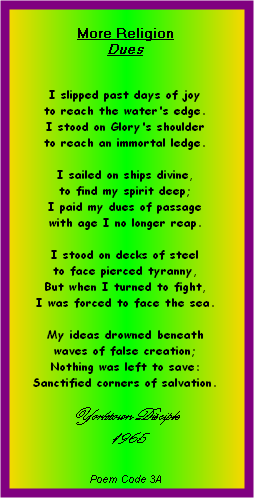 Steeped in a primal inflection
Glued to an omniscient infection,
Tied to buoys of prudent introspection
Always on a course correction.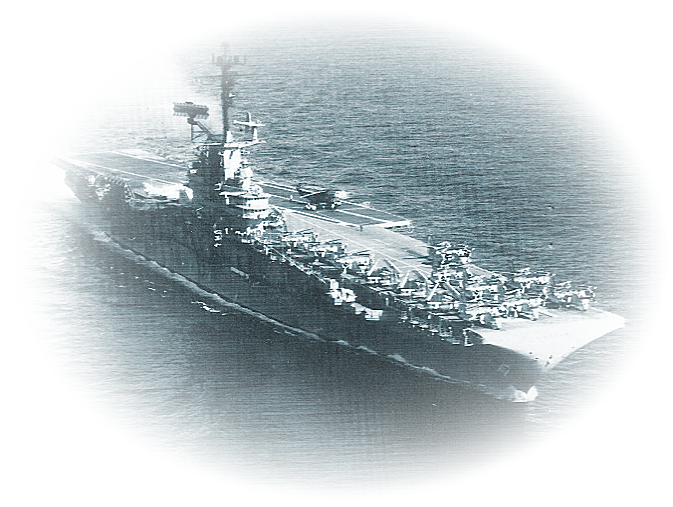 A Noble Profession

Poem Builder

Poem Crafter

Poem Erector
Poems Of Somber Purification
---
Click to see Yorktown Disciple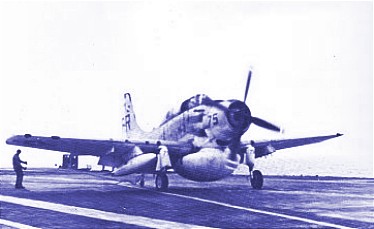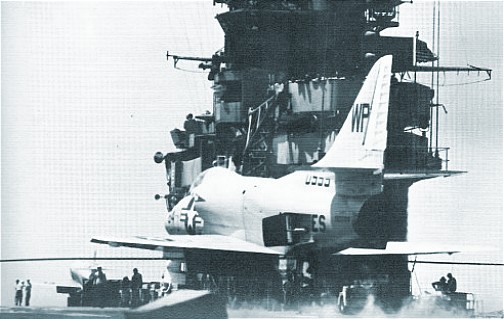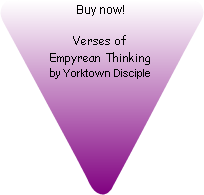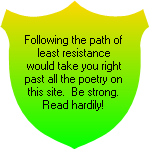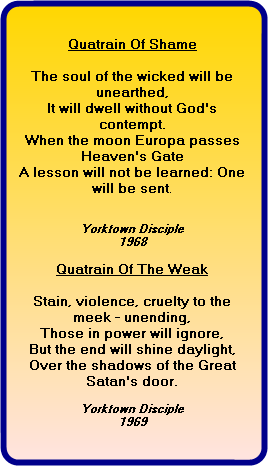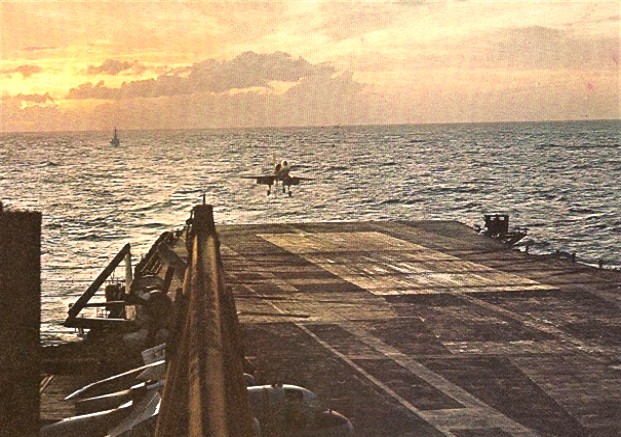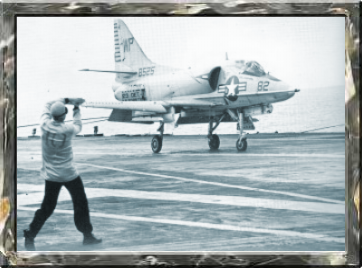 ---


1964
The Editors

We wish to thank you again for visiting this site. We hope you have been inspired to write a sonnet, a verse or fly a jet, or watch a sunset. Please come back again.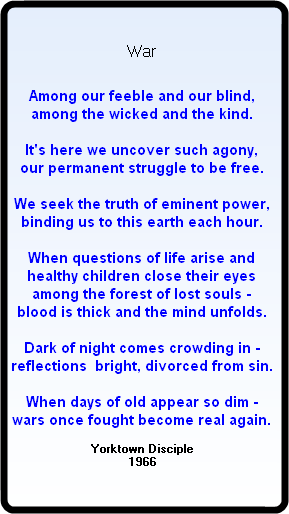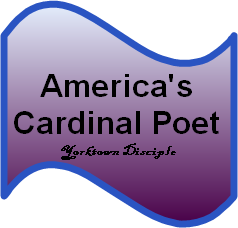 ---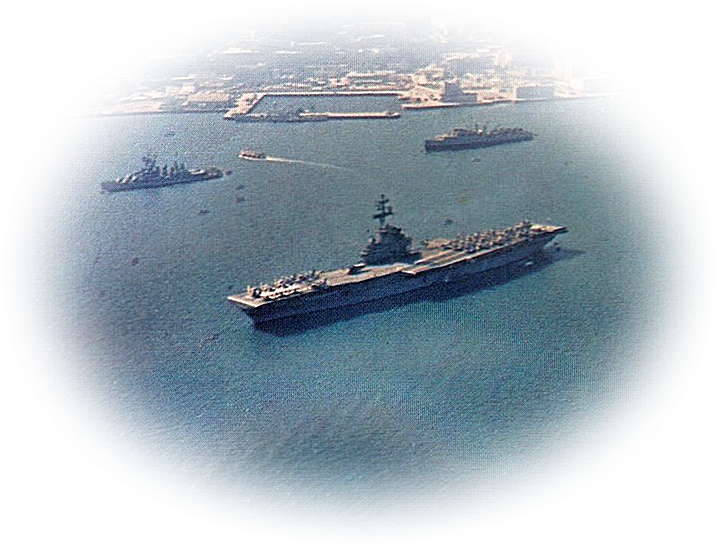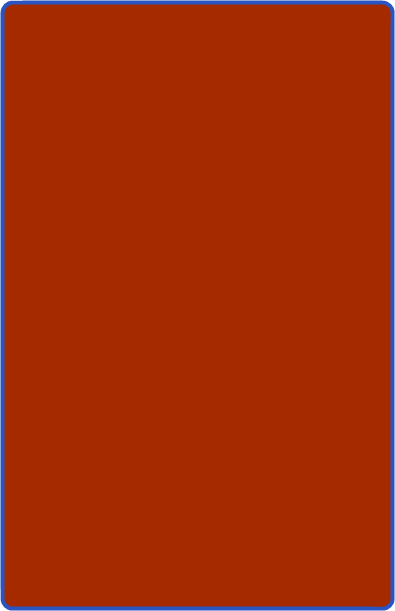 Sea Triumphs
Yorktown Disciple Saint of Mystical Verse!
Poems, Poetry, Epics, Proverbs, Allegories, Sonnets, Metaphors, Aphorisms, Odes!
Perceptive Publishing
USS Yorktown (CVS-10) The Fighting Lady
Receive your Predicated Prose of Illuminated Pleading right here from the renowned Yorktown Disciple. These are enduring aphorisms you will want to repeat. Check out all the pages of this site and read until your heart overflows with rapture!
TransmundanePoetry, naturally floating freely on water and over land.!
Yorktown Disciple Punctilious Saint of Perfect Poems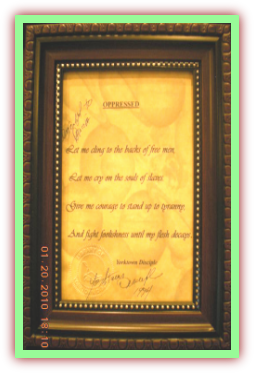 PeerlessPoems
TotemicPoems
Special Sale!
---
Extracting Poems from scrambled thoughts. -
A Dental Wordsmith
Potent Poems


Peerless Poems


Paternal Poems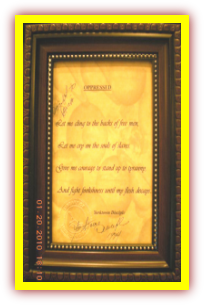 Wood Frame (Walnut)

Intoxicating poetry

Name Inscribed

Gold Parchment

Vivaldi Lettering

Chronicled Certification

Poet's Signature

Penned Date

Poem Code

Embossed Library Seal
Regular Price

Celestial Motion
5" x 7"= $49.60

Inscribed Mug = $8.33
Total= $ 57.83

Poem

Flesh Runneth
Over
Poem Code 1F
Inscribed on Mug:

Soul Climbing
Tendrillar Wall
Special:

$46.50

Item: X
Special: $46.50

Flesh Runneth Over

In the abyss of a chasm,
Without a covenant I
bequeath:My sanctified
sin dipped in broth that
once fed a starving belief.
I created not one, but
two of me,from the crust
of unleavened bread,and
now I'm sandwiched
like a particle board to
the creator of the dead.
Yorktown Disciple
Flesh Runneth Over

In the abyss of a chasm,
Without a covenant I
bequeath:My sanctified
sin dipped in broth that
once fed a starving belief.
I created not one, but
two of me,from the crust
of unleavened bread,and
now I'm sandwiched
like a particle board to
the creator of the dead
.
Yorktown Disciple
---
The Apostle of Sanity, Yorktown Disciple
The Story of Yorktown Disciple

Yorktown Disciple served on the USS Yorktown in the beginning of the Vietnam War. He went onboard skinny and green and reemerged two years later a renowned Poet!

The Editors
Evening Landing on The USS Yorktown CVS 10
1964
---
Package Item X
We use PayPal. The easy and secure way to order!

Squirreling away as many poemcrackers as you can possibly poemstart without lighter fluid.
Flying over water,
Flying onto the deck;
Flying with a compass
Keeping you in check.

And:

Use the Fly-Thru
When you get hungry!
yorktowndisciple.com poemscvs10.com
Yorktown Disciple has written very few love poems. "Strangers". We hope you enjoy this one as much as we did.

The Editors
Warning! Don't read this Poem if you are taking medication to control repulsive chills for your Mother-in-Law.
Poemwings
Deck of the USS Yorktown (CVS 10)
Poet of Plenitude
Signed Embossed Library Seal Poem Code Your Name Cauterizing Verse Beautiful Wood Frame Chronicled Certification

This is what they mean when they refer to the "Wild Blue Yonder"
An evening the Pacific stood still
Each mounted poem comes with short autobiography of Yorktown Disciple attached to reverse side of frame with matching poem code numbers stamped on lower right side of poem. Both signed. DO NOT SEPARATE. VALUE WILL DECREASE!
CHRONICLED CERTIFICATION
All poems personally signed by the poet Yorktown Disciple.
All poems are certified to be from the Library of Yorktown Disciple
ALL POEMS ARE MOUNTED IN A BEAUTIFUL WALNUT, SOLID WOOD FRAME. AN ARTIST'S SKETCH OF PLANETARY MOTION IS ADDED TO THE BACKGROUND FOR VISUAL VIBRANCE. THE PROVERBS ARE PRINTED IN BOLD, BLACK ITALIC VIVALDI FONT ON PARCHMENT PAPER. EACH POEM IS INDIVIDUALLY SIGNED BY YORKTOWN DISCIPLE AND DATED WHEN IT WAS FIRST PENNED. (1960 THRU CURRENT). EACH PIECE IS INDIVIDUALLY EMBOSSED WITH A LIBRARY SEAL TO CERTIFY AUTHENTICITY AND TO ENRICH THE FRAGRANCE OF THE ART. THESE ARE FABULOUS REPRESENTATIONS WITH CONCEPTS TO SCULPT YOUR HEART. YOUR NAME OR THE NAME OF SOMEONE YOU LOVE ALSO APPEARS IN THE AUTHOR'S HANDWRITING. THE WRITTEN WORD HAS NEVER BEEN SO ELOQUENTLY DISPLAYED BEFORE.

Published by PERCEPTIVE PUBLISHING
Poet Speer
Spider Spinning Prose
Shadows are fading for the Yorktown

Bombs or
Pen?
Totemic Poems

Perceptive poetry
An awesome sight!
Yorktown Disciple
Saint of Sanctity
Yorktown Disciple
Saint of Washed Hope
Intoxicating poetry -
Wood framed (Walnut) -
Printed on Gold Parchment -
Celestial Background -
Embossed Library Seal -
Poet's Signature -
Your name Inscribed -
Dated when penned -
Chronicled Certification -
Poem Code Identifier -
Personal Enlightenment -
Yorktown Disciple

Poet of Ritual Sanctification

There is a time of day when you can come to know and understand the poet, Yorktown Disciple. Channel your most precious thoughts during the early hours of the morning toward nirvana. Do this without seeking or expecting any gratification.

Next, allow the boundless apparitions of your most favorite spirit to connect to the image you hold of pure righteousness. It will not be necessary for you to disconnect from the past. You will find Yorktown Disciple to be your inner thoughts. You will find old emotions cleansed of selfishness for he holds the staples that God uses to daily fasten your soul together and the mortar between the bricks you call life. He stands between you and earthly salvation. Not salvation from God but salvation from the tilting of the earth, the pull of the planets, the rays of the sun.

You will know Yorktown Disciple by the richness of a profound thought, the excitement of a gut reaction, the craving for breathing, for loving. When you read the essence of his poetry you will not be reading splendor from a transient poet, rather you will know the sounds of mystic revelation and the spark of eternity. Let your conscience guide you to the ends of the earth and may happiness follow you all the days of your life.

Order Section 11
© 2010 by Yorktown Disciple. All rights reserved.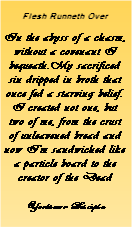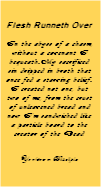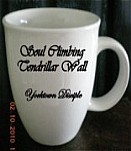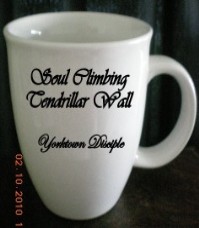 ---
Poemart 9 - Poem Sentinel - Yorktown Disciple