 The Editors

What is a Dibond Invective Plastron?

This Dibond plate being offered on this site is a durable aluminum composite material- two strong sheets of .012 aluminum bonded to a thermoplastic core.

Alcan Composites, USA Inc., offers this new composite. This material finish has polyester clear-coat applied over the brushed aluminum finish.

Protective masking comes standard, applied to the brushed aluminum side of sheet. It has an excellent smooth surface enabling precise screen printing. Material is very rigid. Excellent weather resistance and very light weight.

Your Quatrain will last indoors or outdoors for a very long time. This art work is resistant not only to the weather but to your friends as well. They will be able to throw fresh eggs at your poem if they do not like it and it will not hurt it. You simply wash it off and read it again.

Makes a perfect gift. Truly, it is a gift of perfection. Comes with an attachable hook so you can hang it on a wall. Wow! Looks like a million bucks!
---
Quatrain By Yorktown Disciple- size (7" x 9") Plastron $59.00
Size (7" x 9")
---
Click the Button
Quatrain shown as Sample/Red border
Plastron is 1/8" thick thermoplasic core
View your Quatrian here!
© 2010 by Yorktown Disciple. All rights reserved.
Dibond Invective Plastron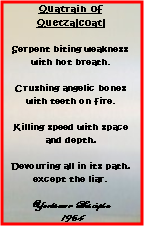 Click to enlarge
Quatrain #
Be sure to place your Quatrain Order # here
---
Aluminum Composite
Item: A19

Check out our Chronicled Embossed Certification from the Library of Yorktown Disciple
Guarantee: Chronicled Certification: Each Quatrain on a Dibond Poem Plastron comes with a separately attached Laminated autobio of the poet, Yorktown Disciple. An embossed seal from the Library of Yorktown Disciple is included. Certification is signed. (This is to insure you have in your possession a certified authentic copy). Guaranteed by Perceptive Publishing.
Yorktown Disciple
Quatrain Builder
Poetizing around the world